The English Leicetser Association of Australia
The English Leicester Association of Australia
Association objectives:
To encourage the breeding and use of English Leicester Sheep and to develop, promote and maintain the purity and improvement of the breed in Australia.
To collect, record and publish information relating to English Leicester Sheep.
To consider questions affecting the interests of Breeders of English Leicesters.
To encourage, promote and carry out research into better methods of animal husbandry and breeding.
To co-operate with the Australian Stud Sheep Breeders Association, in every way and abide by their rules, regulations and decisions.
---
The Secretary
Mrs. Margaret Kingman
225 Bessie Creek Road
Nar Nar Goon North
VICTORIA 3812
☎ (03)5942 5656
✉

jkingman@bigpond.net.au
---
Office Bearers:
| | | |
| --- | --- | --- |
| President: | Brenton Heazlewood | (03) 6397 3458 |
| Vice President: | Colin Taylor | (03)5595 0272 |
| Secretary: | Margaret Kingman | (03) 5942 8367 |
| Treasurer: | Lisa Docherty | 0417 517 977 |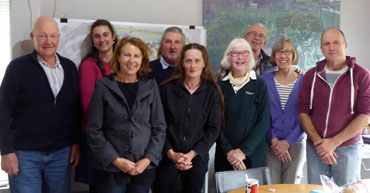 The ELAA crew: AGM 2016
A full list of members with contact deatils:
Member directory
---
Membership
Membership is open to owners of English Leicester Flocks registered in the Australian Stud Sheep Breeders Association Flock Book, Flock Masters employed by owners, AND other interested persons. Membership Fee $25 per annum.
Membership form (pdf)
Please complete membership form and return to the Secretary. Paymenmt can be made by cheque or EFT.
Banking Details: BSB: 633-000 Acc. No: 110025681 (Bendigo Bank)
---
Life Members:
Mrs. Ethel Stephenson (Retired)
Mr. Colin Taylor
Mr. Ivan Hazlewood (Deceased)
---
History Of The Association
The English Leicester Association of Australia Inc., was re-started in 1982, after a lapse of some time, to assist in the promotion of and ensure the survival of the breed. It was incorporated on 19th May, 1992.
The foundation President was Mr. Ian Morrish, (Flock No.181), Secretary - Mr. Colin Taylor (Flock No.335), and Treasurer - Mrs. Dianne MacFarlane (Flock No.336).